One thing that amazed me when I firs arrived in Germany, and later Portugal, was the diversity of flavors and brands of vegan yogurt.
I was blown away because of how cheap, pratical and tasty they are.
This are really helpful for people who don't heave a ton of time to cook, and also helps who is heading towards a plant based lifestyle. Having easily available products really helps with the transition, and makes everything easier. Hopefully, someday, Brazil will heave such a variety of vegan yogurts on the supermarket shelves.
Me and my husband used to have a lot of those, until we started cut down on industrialized food and sugary products. So we started making Rejuvelac yogurt, to replace the market ones.
I previously wrote about Rejuvelac, you can read more about it here.
It's made with plant based milk and rejuvelac. Let's see the recipe:
You may use a industrialized plant milk or make one yourself. We used home made almond and coconut milk(no added sugar).
Ingredients:
2 cupsalmond milk;
1 cup rejuvelac fermented for 24hours;
1 tray of strawberries (optional);
1 teaspoon of xantham gum(optional)*
Leave the mixture outside the fridge for one day, in a sterilized glass. Then store it in the fridge.
*If you like your yogurt more liquid, you don't need the gum. If you use a thicker plant milk, specially those coconut ones, you won't need gum too. You can blend coconut or almonds with the rejuvelac mixed already.
Here you can see the flavors I made, from right to left: raspberry, dates with locust bean flour, and strawberries.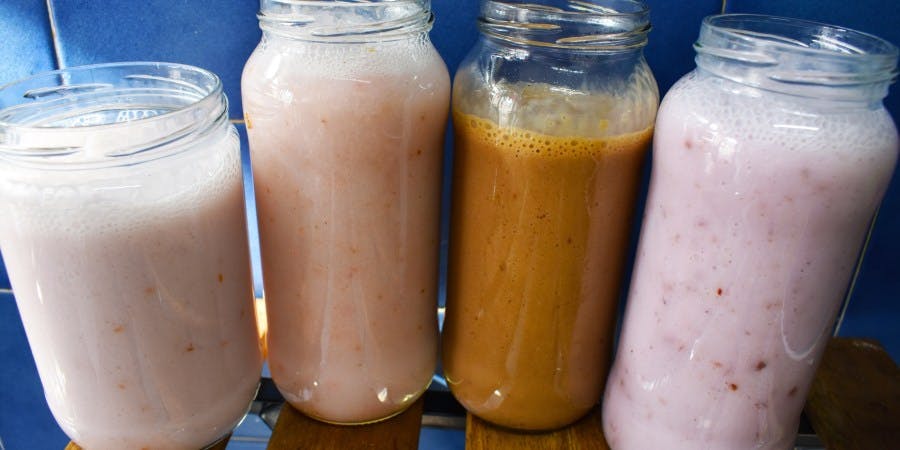 You can blend any fruit you like. Save some glass jars from other products to use for the yogurt